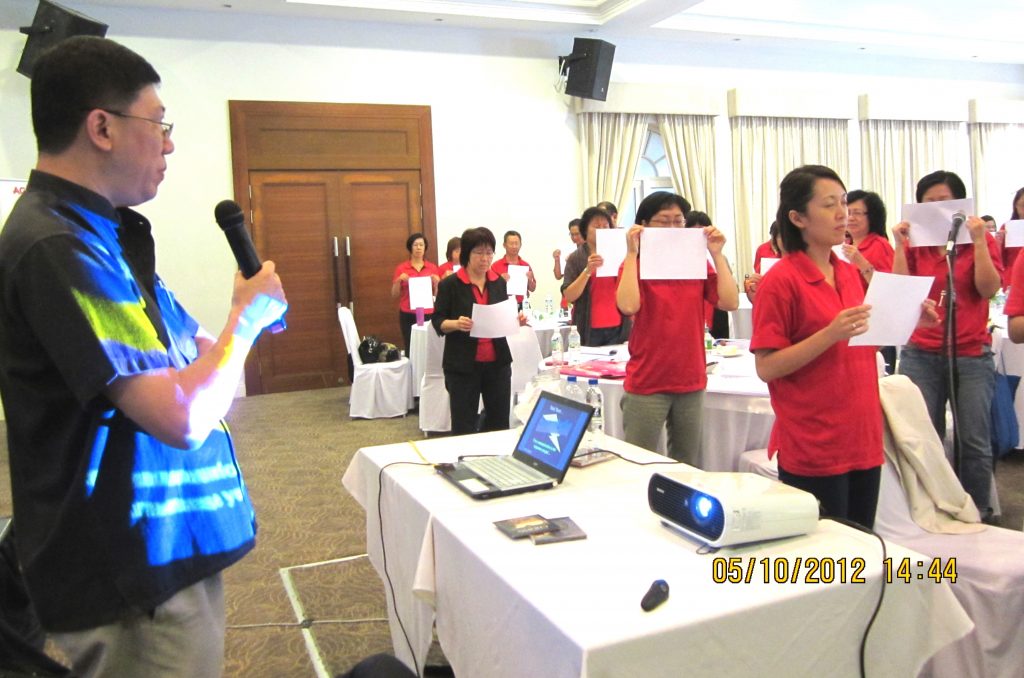 Total Team Alignment Training Workshop
Unleashing the Power of Team Synergy
Do you feel your staff are not working as a team or not in tune with what you want to do?
Is their attitude not what it should be?
Are they pulling against each other all the time?
Tired of communication breakdowns and team conflicts?

This is Not your run-of- the-mill "Team building" workshop. Get your team fully aligned and see what a difference it makes to have a really powerful, united team working together in synergy.
"Understand human characters and working style. With the understanding, I believe I could build a winning team.."
       ~ Cecilia Lee, AQ Solutions (M) Sdn Bhd
---
"The team learnt and agreed with the quality leadership and have a clear picture about company culture."
 ~ Kai Saw, Mavisco (M) Sdn Bhd
---
"I learnt how to understand behaviour style, communication skills and be a good leader."
 ~ Jenny Leong, Mavisco (M) Sdn Bhd
---
"Before this seminar, I thought I was ill-treated by the company. After the seminar, I know I my-self am the only one that is holding back change."
 ~ Ng Ju Juan, Maxis Communication Sdn Bhd
---
"The seminar will guide you to discover who you really are and to know yourself better."
~ Chin Yi-Wei, Prevosis (M) Sdn Bhd

---
"This seminar would enable you to work towards being an effective leader. Making you feel that one should take ownership to progress."
~ Soo Chen Siang, Mavisco (M) Sdn Bhd
---
"Learn how to be succesful in life, living style, worling style and how to know other people through DISC."
~ Zuin Nurin Syah, Klinik Mediskin Sdn Bhd

---
"After this seminar, I realised that it is important to get to know each employee character in order to communicate more effectively with them."
~ Danny Ng, Tanasa Flooring Sdn Bhd

---
"This seminar is excellent and you will be able to learn more about leadership, communicate better."
 ~ Grace Chong, Tanasa Flooring Sdn Bhd
---
"In this seminar, I know what is the true communication – DISC, how to communicate with company staff and the importance of leadership in the company."
~ Penny Kow, Tanasa Flooring Sdn Bhd

---
"It was very good, motivating and I learn about myself and people around me with their behavioural style – DISC."
~ Jagir Kaur, Insightkids

---
"I learnt about the imprtance of how to bring down my resistence for change which was made starkly clear."
~ Daljit Kaur, Insightkids

---
"Great to understand your team better to improve team dynamics and communications."
  ~ Michelle Sagan, Insightkids

---
"After the seminar, I have learnt to always work above the line and be happy, it will create a fun and positive environment."
~ Yoong Soon Ann, Inetol Innovation Sdn Bhd

---
"I learn how to align my team to my goals and communication style, understand my team better by learning behavioural style."
~ Bay P.L, Innetol Innovation Sdn Bhd